A friend aspires to be as adept at using consumer technology in 30 years – when he'll be in his late 70s – as he is today.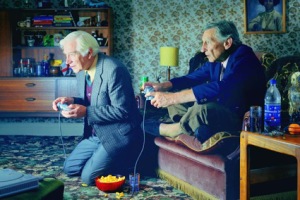 He believes many older people have been lazy about keeping up with the underlying advances of the past 50 years.
And he argues that because he works in software engineering and makes an effort to understand the principles behind new technology, he will be in a good position to achieve his goal of being able to program his semi-bio-engineered cyborg gardener using mind control as easily as his grandchildren in the year 2054.
I believe he's missing the point, and we've had many debates.
Silver surfer wipeout
We first got onto this topic after my friend expressed frustration with his septuagenarian mother, who was struggling to read her online banking webpage.
She'd had the Internet for years! Why couldn't she just fill in the boxes and click the right buttons?
Because, I argued, she didn't grow up with it. It's not in her bones, or her muscle memory, or the appropriate synaptic connections.
While most older people I know have basically got the hang of parsing webpages by now, it was fascinating watching them try in their early encounters with the Internet.
Very often they'd start reading from the top left. They'd scan right, then return to the left hand side, drop their eyes down a bit, and continue the process.
They were reading the webpage like a book!
Ever wondered why anyone clicked on banner adverts or got confused about content versus text ads in the sidebar?
Now you know.
Reading a webpage like a book is bonkers to my generation.
Most of us grew up with – or at least encountered – video games.
We were taught very young to treat the screen like a plate of tapas to pick and choose from, rather than as a sacred text.
Perhaps even those who missed games (many young girls, in the early days, for instance) were still trained to have a roving eye by the frenetic activity of Saturday morning cartoons, or by the visually didactic offerings of Play School and Sesame Street.
Older people grew up on books, and watched movies at the cinema that were first staged like theatre productions. Their hands were held by the film's creators through the viewing. Though they couldn't articulate it, they mostly knew what to expect next (what shot, what reaction shot, what panning shot, and so on).
Whereas we were taught to take what we needed from a screen. Webpages, when they came, were no big leap.
Of course we were also young, inquisitive, and took pleasure in being adaptable – qualities that do seem to wane.
In any event, reading webpages has diddly-squat to do with understanding hypertext or TCP/IP.
Similarly, many of our parents well understood what a video tape was capable of doing.
The reason they struggled to program their VCRs was because they grew up in a world of wooden horses and plastic cars and just one fancy piece of electronics in the corner of the living room that at first they weren't allowed to touch.
Are you already a luddite?
If you're in your mid-to-late 40s and you believe your grandkids won't be helping you with your household appliances in 30 years, ponder the following:
Do you spend fewer than 10 hours a day consuming content via a handheld digital device?
Do you still own a CD or DVD collection, or even an iTunes library?
Do you take a photo of every meal you have in a restaurant and then distribute it on social media?
Do you ever answer your front doorbell?
Do you take 546 portraits of yourself in front of every cultural landmark you pass, and know which is your good side, the right angle for your chin, and what's your best filter?
Are you innately au fait with the rule of three?
When was the last time one of your memes went viral?
Do you answer your phone and/or leave voice messages?
(You actually have a landline?!)
Did you meet your last three partners on dating apps?
Has your Facebook account been dormant since 2016?
How often do you Snapchat something you're ashamed of?
Do you fall asleep with your iPhone?
Can you even imagine sitting in front of adverts on the TV?
Sometimes you should be answering yes, and sometimes no.
Hopefully the questions speak for themselves. Most of us my age are already past it.
And this is just 2010-2020 technology. If you're under 30 and you're thinking "sure", wait until you see what's coming next…
The future is child's play
My point is that what defines technological advances, eras, generations – and alienation – is not how the technology works.
It's what people do with it.
A clue my friend is going to be metaphorically reaching into the befuddled darkness in his old age with the rest of us is he thinks none of the stuff in that list is new, and that it's mostly stupid.
He doesn't use Snapchat, he says, because he hasn't got time, but anyway it's just text messaging with pictures.
Posting photos of every dinner to Instagram is pointless, narcissistic, and distracting.
And so on.
Yes, perhaps I agree with him – but I would because I'm his age.
Our parents thought Manic Miner was a waste of time, too.
My father – who worked in Information Technology all his life – said I was in too much of a hurry to encourage him to get a home email address. Who was ever going to email him at home?
Whereas young people play with the new technology around them.
It's not even new technology when you're young. It's just the world.
Their play may seem silly at first. But often they're learning how to navigate the future.
Photographing your dinner seems ridiculous to those of us who made it to 46 without a daily visual record of what we ate.
But we weren't cultivating multi-faceted media personalities from our pre-teen years with as large a footprint online as off.
I sent my friend a video this morning. It shows kids having fun using their AirPods as covert walkie-talkies in class:
My friend replied as follows:
A typically convoluted and wasteful solution. I'm sure they have great fun doing it, though.
(To get his tone, read his second sentence in the sarcastic voice of Basil Fawlty, rather than with the camaraderie of a Blue Peter presenter.)
His response illustrates why my friend will surely have to call out the droid training man six times before it's finally packing away the grocery deliveries the way he wants it to.
Or why he'll be one of the last to order an autonomous car that has a hot tub instead of a driver's seat.
Or why he'll never meet a partner on Tinder who will only make love after micro-dosing LSD.
Or why he'll insist on sending text messages, rather than sharing head-vibes via an embedded emote transmitter-receiver.
Or why he'll die of a heart attack because he hadn't tracked his blood via a wearable monitor disguised as a signet ring.
Or whatever actually does come down the road; the challenges of tomorrow's technology won't look like those of today.
I don't mean to make fun of my friend. I applaud his aspiration.
But he has got a solution for a totally different problem.