Blah, blah, blah…
No, that's not a publishing error. I haven't forgotten to write my introduction.
It's how I feel when I read the whole world of work – and with it office and home property – has changed forever due to Covid-19.
From the Financial Times:
In the world of social distancing, many of the world's office workers have not seen their desks for weeks. But when coronavirus lockdowns finally ease, there may be fewer desks to return to.

Facing a sudden need to cut costs, chief executives have indicated in recent days that their property portfolios look like good places to start given the ease with which their companies have adapted to remote set-ups.

"The notion of putting 7,000 people in a building may be a thing of the past," said Jes Staley of Barclays.

Financial Times, 1 May 2020
That is just one of innumerable articles. I picked it because Staley was one of the first big shot CEOs to jump on the bandwagon fleeing Central Business Districts in big cities across the globe.
Back in May, with lockdown underway, it was easy to be gloomy.
But here we are in September and the narrative hasn't really changed. Indeed it's gone mainstream.
From Marie Claire:
Following COVID-19, over 3 in 5 (63%) respondents strongly or somewhat agree that following the pandemic the 9-5 is, in fact, over. This shows that the 9-5 as we know it doesn't suit workers, and perhaps, it never did.

Marie Claire, 10 August 2020
That article covers lots of angles, with survey results suggesting the Marie Claire demographic is divided about the future of office life.
As for the stock market, it also has… an opinion: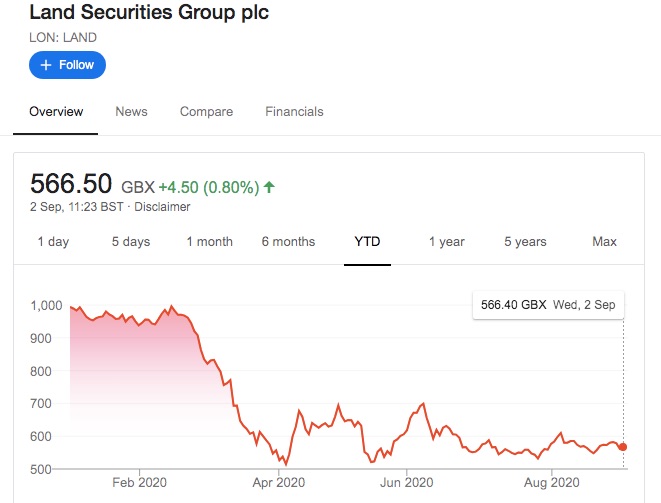 Shares in Landsec (LSE: LAND) are down more than 40% for the year. They were hardly booming beforehand.
At the end of its last financial year, Landsec's net tangible assets per share (TNAV) were £11.92. So Landsec shares are trading at a discount of more than 50%.
Seen another way, the market is prepared to pay £500,000 for ownership of a building that surveyors value at £1 million.
Shares in REITs like Landsec have sometimes trading at premiums to TNAV, so this is no structural feature. One side is too optimistic, and the other pessimistic. The property can't simultaneously be worth £11.92 and £5.66.
Okay, it's not quite so simple. The market is discounting future cashflows and uncertainty, and Landsec's valuers aren't making their estimates based on a firesale of all of its properties for cash.
But the discount is vast enough to make such points moot. Something is wrong somewhere.
Meet me for a coffee
This isn't all about offices.
Landsec is only partway through getting rid of dated retail assets.
Worse, what it thought were its prime retail assets – coffee shops in mixed use 'campuses' in Central London locations and the like – were rendered sub-prime by the virus.
I do believe the shift to online retail is real and continuing. Some discount is surely warranted.
But more than 50%?
I suspect you have to believe the Everything Has Changed outlook for that to hold.
Personally, I doubt everything has changed. There were lots of reasons for lots of people to cram together when working in the past – and always plenty of reasons not to.
In contrast, the purported huge change has been sparked by just one thing – Covid-19. That won't last forever.
Yes, some companies have been exposed to how modern technology can stand up virtual offices that enable plenty to get done more cheaply.
But that technology existed before Covid-19. Lots of companies were already using it.
I also suspect many companies are coasting on the institutional memory, networks, and systems acquired by working together.
There's a sunk cost they are benefiting from that would need to paid some other way in a massively distributed working world.
Of course this doesn't apply to one-man bands and start-ups. But it never did.
Nearly there
A friend of mine works for the Google AI division Deep Mind in its Kings Cross campus. Those offices were deliberately built in Central London on a campus that – also very deliberately – includes the new home of the longstanding Central Saint Martins art college and the new Francis Crick Institute for biomedical research.
These facilities were all built close to each other for a reason.
I had exposure to the 'future is working from anywhere' meme in the early 90s. We had the Internet at my university, and I was years ahead of the masses in predicting people would soon work wherever they liked, thanks to ubiquitous connectivity.
Very early, and very wrong!
In the years that followed, Silicon Valley prospered and London boomed. Prices rose in the prime cities of the world as young smart people stove to live, work, and play near each other.
The potential for a pandemic was always present. It will never go away. But I suspect our memory of the hassle, pain, and loss will.
I think the fear of density is a blip.
There will be changes due to lockdown and the virus – especially for those who lived through it (i.e. generational) – but there were incentives to proximity in 2019 and I think there will be in 2022.
My view: The more people can be anywhere, the more they will want to be somewhere.
Disclosure: At the time of writing I own shares in Landsec and a flat in London.