A couple of weeks ago I WhatsApp-ed a few of my diehard virus-obsessed friends to ask them: "Why is the UK so crap at Covid?"
After all, we're at the forefront of the world when it comes to vaccinations.
And we'd been stuck in some form of lockdown longer than most countries, too – with restrictions just extended again beyond 19 June.
Yet it already seemed we were on the cusp of a third (fourth? fifth?) wave of Covid.
I'd been concerned enough by the numbers to move my second jab forward by five weeks.
Better to look silly than sorry.
Case studies
That new-wave thesis has since been borne out in the curves: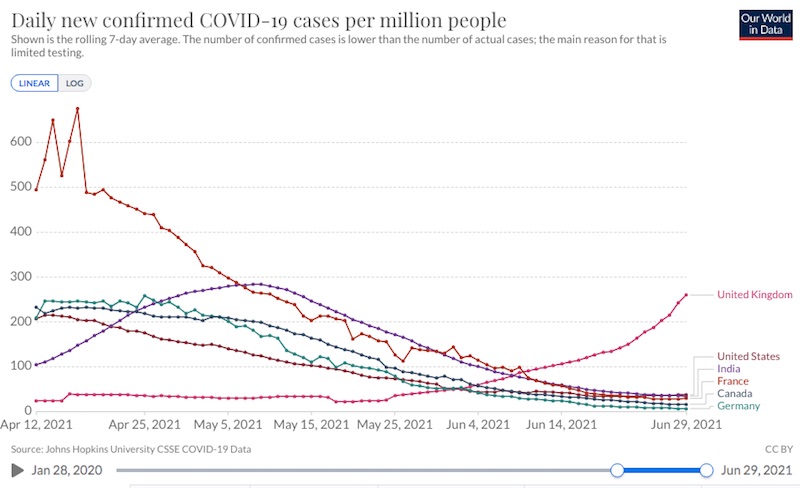 Our long lockdown over winter and into spring – plus the hugely successful vaccine rollout – had flattened the last wave by mid-May.
And yet here we are rising again as other countries flatline.
Various theories were put forward by my friends, from weaker guidance adherence at home (allegedly) to tougher restrictions abroad (supposedly).
I don't buy any of that. To me this is clearly the Delta variant at work.
Always the sick man of Europe
In the past week the rest of the world seems to have woken up to the threat of Delta – or at least the stock markets have.
Yet we're also hearing the same stuff we've heard throughout the pandemic as to why Delta won't spread across Europe, or surge in the US.
Apparently it's a British thing because it's – um – currently in Britain? Yeah we've seen that movie before.
The one constant in this pandemic has been wishful thinking, and I'm finally immune to that.
It's very likely that all those countries in the graphs above will see a resurgence of Covid over the next few weeks. Poorer countries with few vaccinations will be hit worse.
Israel, the other super-vaccinated country, has also seen cases rise in the past fortnight, incidentally.
Of course the pandemic has made us all look silly at one time or another. For instance while I definitely acknowledged the threat in March 2020, I didn't believe the virus would prove so enduring.
I also feared the economic impact of lockdowns would be far more visible – mostly because I couldn't have imagined the level of emergency government support and intervention we've seen, even in the US.
So perhaps I'm wrong and Delta's proliferation in the UK is down to some particularly unfortunate set of circumstances here.
Oh, and – um – in India.
Yeah, perhaps not.
Deaths down despite Delta
Happily there is one good bit of good news, and it isn't wishful thinking.
By and large vaccinations do stop you going to hospital with Covid, let alone dying.
There's some lag in the data as always (because deaths don't happen for a bit) but this UK Delta wave isn't killing as many so far: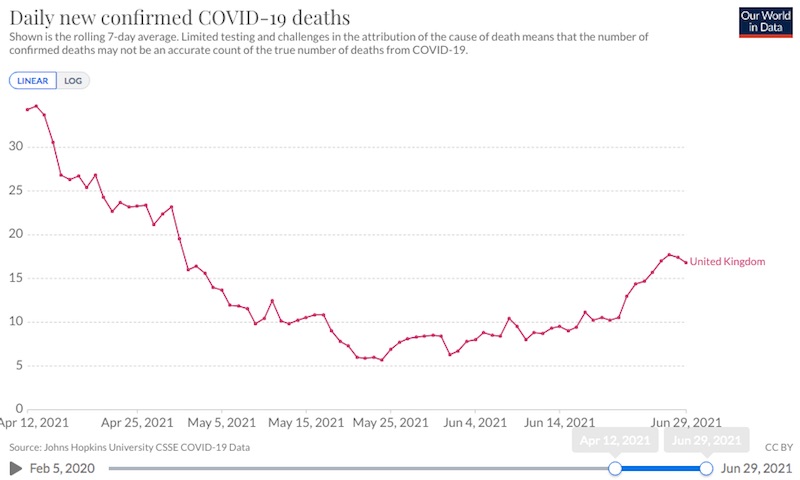 True, it's sobering to think that 15 deaths a day would have been seen as terrible news in January 2020 – and to remember that every death is someone's lost life and the loss of a loved one.
But deaths were running as high as 1,200 a day in early 2021. We're in a far better spot right now.
Cases aren't anything like as high as early 2021 yet, so more deaths will surely follow.
But a crude extrapolation might put us at about 150-200 deaths a day if things got so bad as January 2021.
(And they shouldn't get so bad, given that more than 80% of people have been vaccinated. Vaccinations must act as some sort of transmission firewall, however imperfect.)
Prime Minister Boris Johnson looks determined to fully re-open the economy, despite Delta. In PMQs today he even used the unofficial term 'Freedom Day' for the rescheduled end of restrictions on 19 July.
So it seems we will finally see what "letting it rip" looks like.
Probably a lot of us getting Covid as it becomes a perpetual low-level irritant.
But hopefully not much more dying.
Clearly we can't keep hiding from the virus forever.
And after the vaccines there's arguably nothing else left to wait for – except perhaps even better vaccines.
On the other hand, the rest of the world is about to go through Delta. Brewing-up new variants while doing so.
This isn't over until it's over – everywhere.